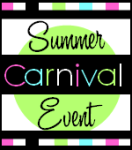 Linkel Designs has some of the most beautiful vintage inspired jewelry i have seen on Etsy! The beautiful colors and amazing photos of their jewelry leaves you wanting more. I had so much fun checking out the all the jewelry they offer but totally fell in love with the rings! So simple yet great color with a natural look to them. But then i made my way to their necklaces and there i found a huge selection of one of a kind necklaces that seem to have the same detail and amazing quality as their rings! The best part is that everything is affordable and comes gift ready! Linkel Designs jewelry awaits you! Read a little more about them and then enter to win one of their amazing necklaces!
I (Kelly) am a stay at home mom of a busy little toddler boy, and a professional violinist. I love to make jewelry from semi precious stones, pearls, crystal, copper and silver. I started making beaded jewelry with a friend when I was in high school. I continued to do so off and on in college, but as a violin performance major, I did not have as much time (or money!) to spend on beading. After I graduated and moved back to my hometown, my mom (Linda, a hair stylist) started doing some beading and she got me interested in it again. Now we enjoy beading together – creating together when we can, shopping for beads in our hometown and now selling our creations on Etsy!
GIVEAWAY
One lucky winner will get the necklace pictured above!!
Mandatory Entry
(Must be done for others to count)
Visit their website and tell me what you love!
Extra Entries
*Follow STM via GFC{Left Sidebar}
*Follow STM on Twitter
*Heart Sponsors Shop
*Tweet this specific giveaway{Tweet button, bottom right side of this post}
2 times daily-1 hr apart
*Blog about this specific giveaway, linking to it!
*Follow STM on Reader of choice
*Subscribe to STM via Email
*Enter any giveaways in this event{1 entry per giveaway}List on left sidebar

This giveaway is open to Worldwide and ends 7/31


Smart and Trendy Moms finds products, ideas, projects, recipes, and other information that we have personally found helpful or interesting. As always, it is up to you to determine what is appropriate for you, your children, and your situation. See our Disclosure